75 Ways to Throw a Luxury Wedding on a Budget
Luxe Reception Ideas
1. To get a lavish look on a modest décor budget, choose a venue with a lot of character of its own. Some possibilities: an aquarium, zoo, museum, gallery, botanical garden or historical site.
Photo Credit: Gabriel Boone Photography
2. Rent a vacation home or private estate for a small, intimate affair. "They may charge a week's worth in rent but it may still be equal to or less than renting a traditional reception venue," says Maryrose Griffith of Maryrose Griffith Event Design and Coordination in San Diego, California.
3. Choose a theme or motif and carry it through the event for a stylish look, says Chelsie Zachman, director of marketing and events at Bonnell's Restaurant Group in Fort Worth, Texas. For example, start with a pattern on your invitation, perhaps elegant scrollwork, and incorporate it into other elements like programs, favors, escort cards or even gobo lights for the dance floor.
4. Use color to posh effect, says Griffith. Using a rich hue such as chocolate brown or deep eggplant can give any color palette a stylish look without costing you any extra green stuff. They work with a variety of shades, like apple green, light blue, orange, pink or red.
5. Have a cocktail reception, but be cost-conscious by focusing on a beautiful display rather than tons and tons of food. "Butlers in tuxedos passing trays of a few kinds of stylish hors d'oeuvres seems more high-end than chafing dishes on a buffet table, but the cost is roughly the same," says Zachman.
6. Ask your venue's wait staff to don white gloves while they're serving. "You can buy gloves for just 50 cents a pair," says Samantha Goldberg of Samantha Goldberg & Co. in Summit, New Jersey.
7. Attach a small bouquet or floral garland to the backs of the bride's and groom's chairs to give them a special look.
8. Invest in a little lighting — for a huge impact. Get a wash of color on walls with uplights, suggests Griffith. "Even two or three lights accentuating a focal point will change the feel of the room," she says. Costs for the light rentals would run from $12 to $35 each, including color gels.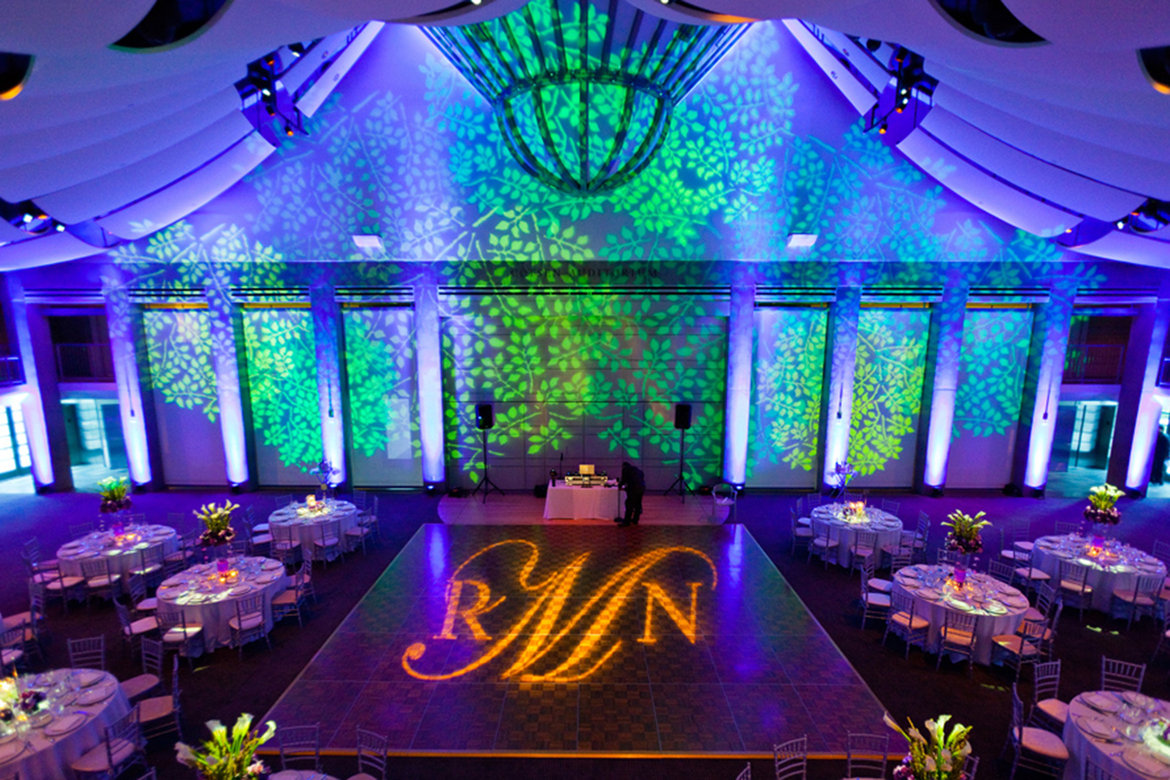 Photo Credit: Embrace Life Photography
9. Change up your chairs. Try white suede for the lead table and regular white chairs for the rest of the guests.
10. Standard banquet chairs. In: Elegant chiavari chairs at $9 each to rent, or chameleon chairs at about $10 each to rent.
11. Another bright idea: Use pin spot lights, at $25 to $50 each, to give extra presence to your tables.
12. Griffith likes to splurge on well-placed plush lounge furniture. "Lounge furniture is more affordable than you might think," she says. "A set of curved benches, for example, might run you about $400. And your guests will feel spoiled!"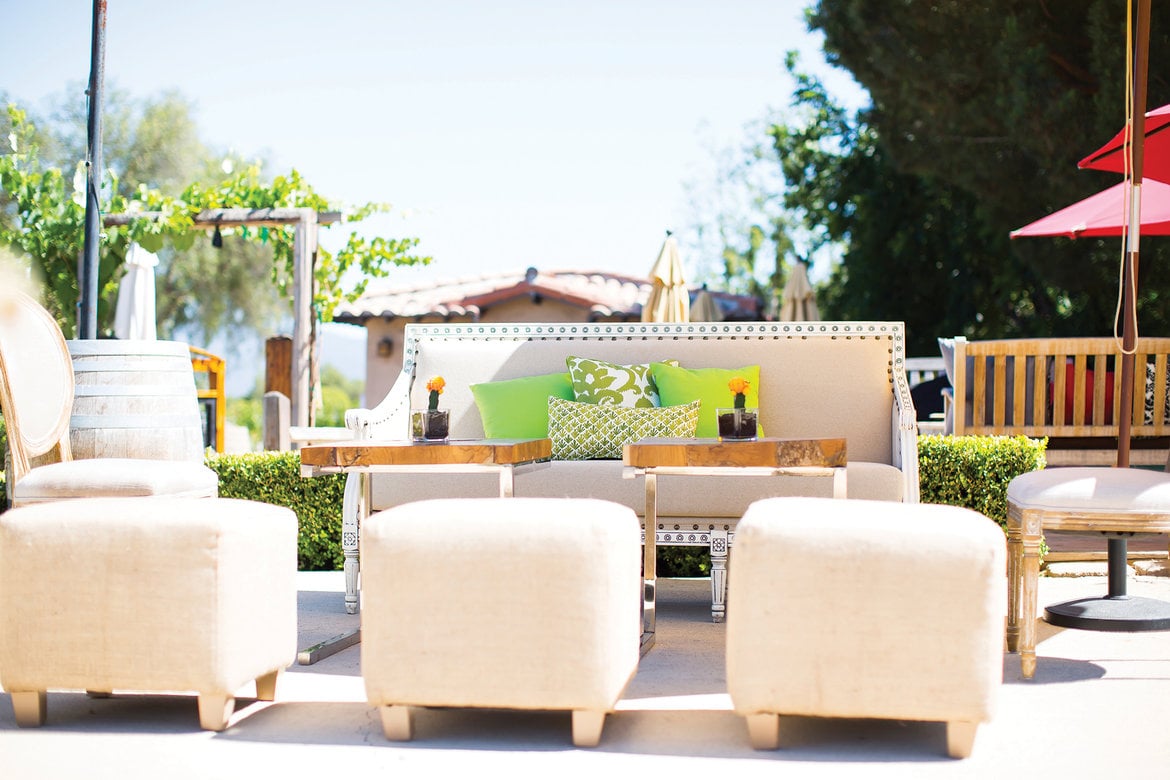 Photo Credit: Ballad Hall/Ballad's Photography
13. Order custom window clings (perfect for personalizing glass doors at your venue) or glassware monograms at websites like wonderfulgraffitiwedding.com. Prices for the clings start at $24, depending on size; for glassware, $24 for a set of 50.
14. Wrought-iron trees, available at stores like Pier 1, for $25 to $30, make a chic backdrop. Take them up a notch by hanging votives or glittering ornaments from the branches.
15. Use natural elements with earthy, upscale appeal. Goldberg suggests filling a two- to three-foot-high vase with a base of river rocks and adding dramatic branches of curly willow. Place these arrangements at the entrance to your cocktail hour and/or reception.
Table Tips
16. Upgrade your linens. Griffith suggests pintuck, shantung or another glamorous fabric. "For just $15 to $30 per table, they're the biggest bang for your buck you can get," she says.
17. While you're at it, you can rent napkins in a color or pattern for about $1 each, adding a pop of vibrant color and a more custom look at the same time.
18. Go a little longer than floor length with your table linens. "Pooling linens makes a much more luxurious, opulent look," notes Zachman.
19. Another option: Rent a gauzy overlay, for $9 to $25 apiece, to dress up your table. Or buy sheer organza at a fabric store and have overlays made for just $5 to $7 apiece.
20. Another table topper: If you (or someone else you know) is handy, create your own table runners. You can go for something extra luxury in your fabric because you won't need a great deal of it.
21. Fold it fancy. "A unique napkin fold can make a statement and most venues won't charge for it," says Price. One option: Fold the napkin to create a pocket to hold a menu.
Photo Credit: Ballad Hall/Ballad's Photography
22. Accent your table with pretty napkin rings. "You can rent them in different styles for three or four dollars each or buy them for as little as 99 cents apiece," says Goldberg.
23. Top each napkin with a single bloom and tie with a coordinating ribbon, recommends New York City-based event planner Leslie Price of In Any Event.
24. Shake up the table shapes. Try a long rectangular table. These come at the same price as typical round shapes but bring a more sophisticated look.
Photo Credit: Eric Craig Studios
25. Place a colored or textured charger ($1 to $1.50 each) underneath the dinner plates.
26. Instead of using clear glass votive holders, try colored or etched ones, suggests Price. Try your local crafts store or candles4less.com, where you can get a box of 12 for $5.
27. In place of pricey flowers for centerpieces, consider romantic candelabras draped in crystals. Tabletop candelabras can be rented for $25 to $55 at websites like simplyelegantwed.com.
28. Use mirrors or frosted glass to cover your tables. It makes a dazzling effect and saves you the cost of providing linens.
29. To make flower arrangements seem grander and more stylish for just a few dollars, wrap inexpensive glass containers in handmade paper, wallpaper or fabric and add a ribbon, suggests Griffith.
30. Go for chic and simple centerpieces. Instead of paying $75 to $125 each for elaborate table arrangements, purchase tall, clear cylinders from the local dollar store to use as containers for single orchids or rose petals in water with floating candles on top, suggests Goldberg.
31. Glow on! "Use candlelight to give your room a rich, romantic look," says Zachman. "It's highly affordable."
32. Or use colored water in your centerpieces to coordinate with your décor. The effect is magical in candlelight.
33. Set reception tables with colored or patterned china instead of standard white. The cost will be $3-$7 per setting.
34. Vary the height, size or shape of centerpieces. "Doing so creates dimension and keeps the eye flowing throughout the room," explains Griffith. "It's a nice effect."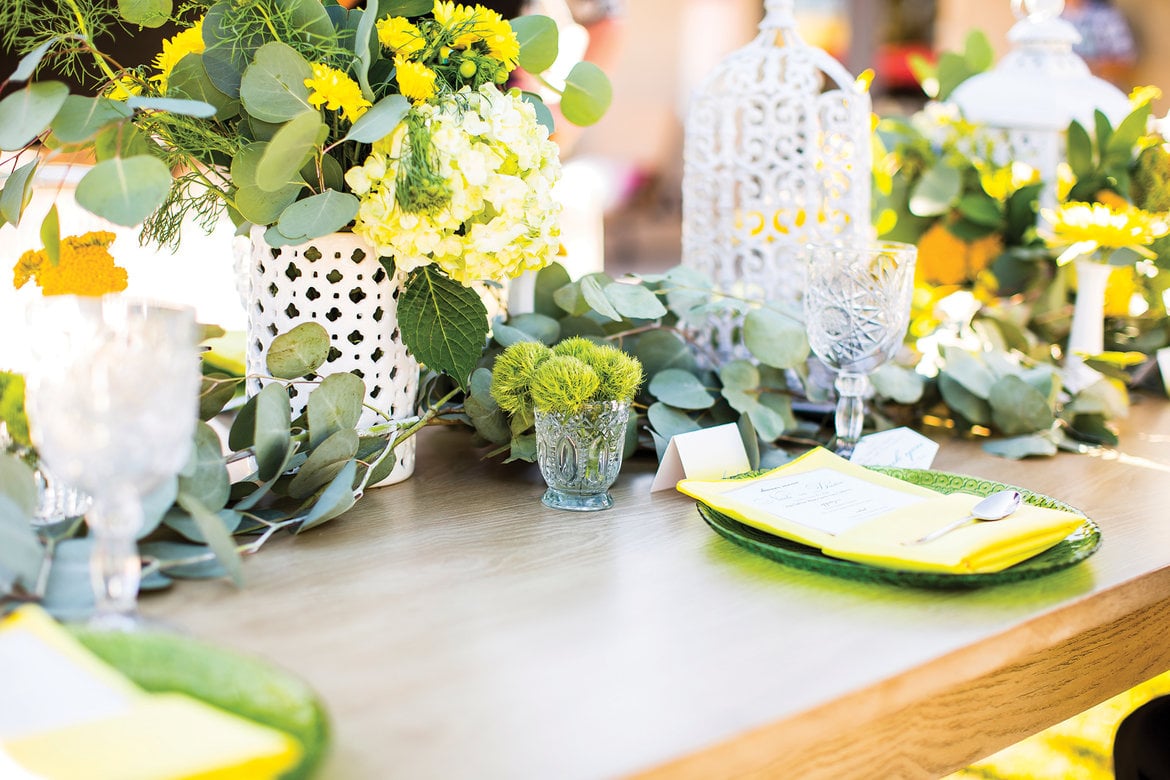 Photo Credit: Ballad Hall/Ballad's Photography
35. Make it metallic. "Metallic items look extravagant but don't cost any more than their counterparts," says Zachman, who suggests presenting favors in little gold boxes and choosing a shimmery champagne color for linens.
36. Play around with centerpiece containers for a more custom look. One of Zachman's Texas brides is filling specialty cowboy boots with wildflowers for a casually elegant air.
37. Want to double the impact of your flower arrangements without adding a dime to your florist bill? Place your blooms in front of a mirror — the reflection will create an ultra lush look.
38. A fresh centerpiece idea: Fill clear containers with sliced limes, lemons or oranges. In the center of the fruit, place a tall glass with a votive to illuminate the arrangement.
39. Use ribbon to give a design upgrade to everything from candleholders to centerpiece vessels to favor boxes, using sticky dots to hold it in place.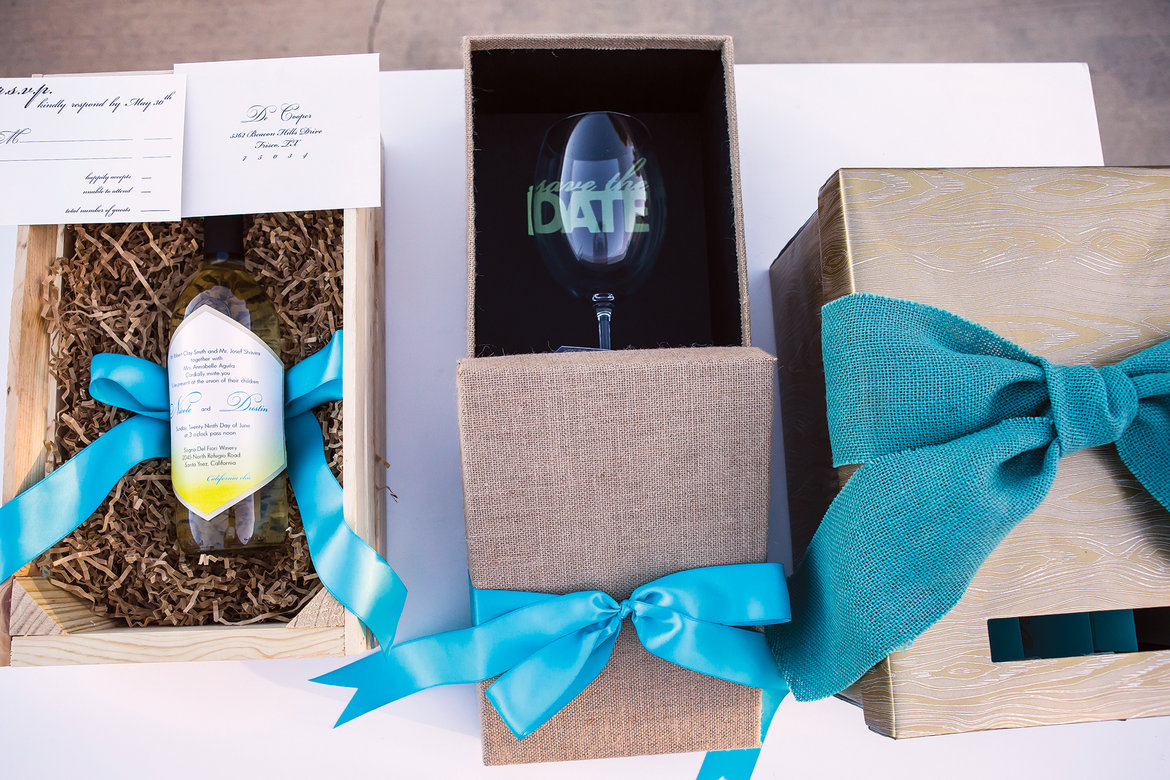 Photo Credit: Ballad Hall/Ballad's Photography
Impressive Stationery Ideas
40. Griffith's savvy stationery tip: Invest the money to have your invitations designed professionally, but then print your own save-the-dates, programs, menus and escort cards using the same fonts, colors and style as your custom invites.
Photo Credit: Underwood Letterpress
41. Say ciao to costly hand-done calligraphy. Either print the envelopes on your computer, using a calligraphy font, or have them printed at your local print/copy shop for just pennies each.
42. Kick off your celebration in high style with a glamorous invite. "Invitations set the mood for the wedding, so go beyond the standard white card," says Zachman. You'll get a much more impressive look with a color.
43. Bring on the bling. "Faux crystals — on bouquets, the cake, invitations, place cards and menus—are eye-catching and give an expensive feel," says Griffith. You can purchase glass beads inexpensively at local crafts stores.
44. Place a beautiful menu at each guest's place. Many venues will print them for you for free, or you can make them yourself without spending much.
45. Get creative with escort cards and/or place cards. In some cases you can do a different shape or color for less than you'd pay for the typical tented fold-over cards, says Clare.
46. Splurge on hand calligraphy for your escort cards, place cards or table numbers.
47. Dress up your escort cards and table numbers by choosing paper with a metallic sheen rather than a flat card stock, says Zachman. If you were to purchase card stock yourself, you'd pay about $40 per 100 sheets for metallic and about $27 per 100 sheets of flat. The difference would be about 13 cents a sheet.
48. For an elegant look, ask the calligrapher to spell out table numbers (six instead of 6), says Price.
49. Instead of just lining up escort cards on a table, string them from branches or nestle them in a bed of grass, sand, rocks or flower petals.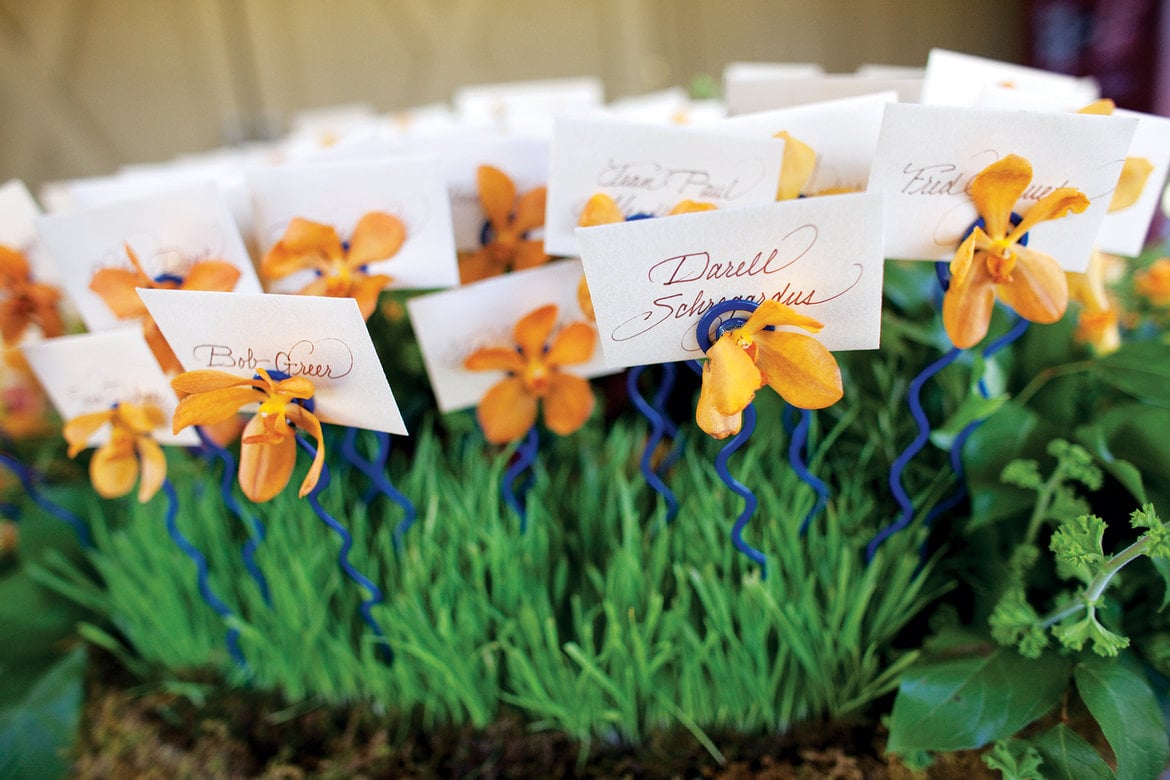 Photo Credit: Sherman Chu Photography
Entertainment Tips
50. Hire out-of-the-ordinary entertainment for a high-impact cocktail hour. To save costs, opt for a three-piece ensemble instead of a five-piece. Or use standout musicians for the cocktail hour and switch to a DJ for dancing later on in the evening.
51. Instead of hiring a group for the cocktail hour, have a solo musician, like a classical guitarist, add something different and delightful.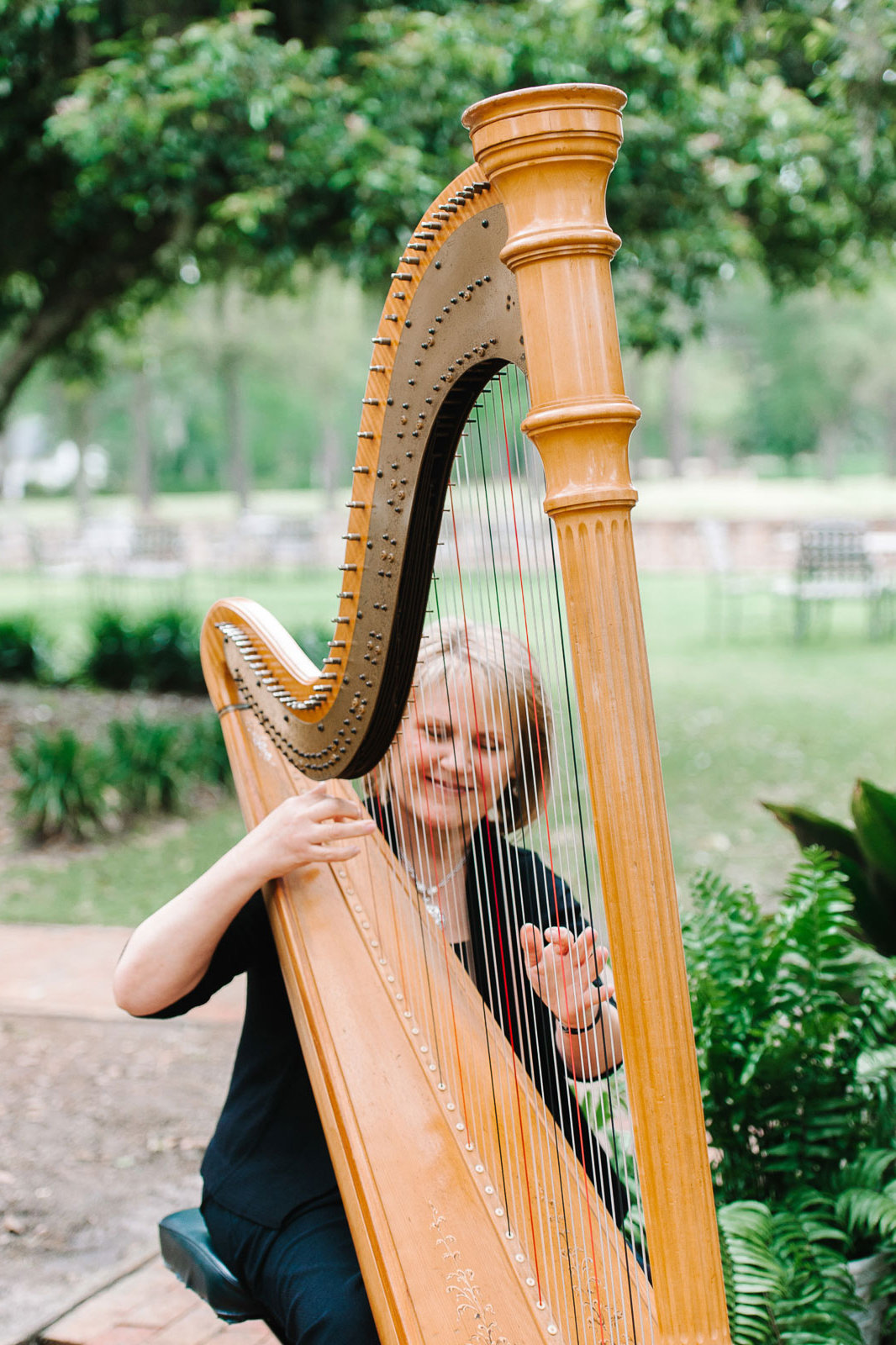 Photo Credit: Pasha Belman Photography
52. Consider a musical group that combines a DJ and musicians who perform along with the recorded music. It'll get the crowd dancing, and provide the upscale feel of a live band at less expense.
53. If you're hiring a DJ, consider a live bongo player or sax player to accompany the CD spinner.
Wedding Food Tips
54. When selecting butler-passed foods, go for visually pleasing nibbles. Red gazpacho shooters with a green garnish look great lined up on a tray.
55. Start your meal with an amuse-bouche, a tasty pre-dinner bite. Try: an espresso cup of soup, a mini crab cake or a single scallop. Dropping the salad course and replacing it with an amuse-bouche is usually done at no extra cost.
56. Presenting food in eye-catching ways creates a chic impression but doesn't have to add costs. "Most chefs enjoy creating unique presentations," says Zachman. "If they have items available, like shot glasses, ceramic teaspoons and so on, they can use these at no further cost to you."
57. Plan your menu around such inexpensive ethnic cuisines as Mexican, Indian or Greek.
58. Treat your guests to an appetizer duo or dessert trio. Price's insider secret: If your venue offers four courses, negotiate down to three and use the "credit" to pay for the duo or trio. For a dessert trio, for example, you might serve a mini flourless chocolate cake, a berry tartlet and a shortbread cookie.
59. Adopt a leaf motif. For a summery look, serve appetizers on petite tropical leaves and use a leaf as a charger under the dinner plate, says Clare. "You can even use a long pod or a sturdy leaf as a serving tray. Guests will really enjoy the ingenuity!"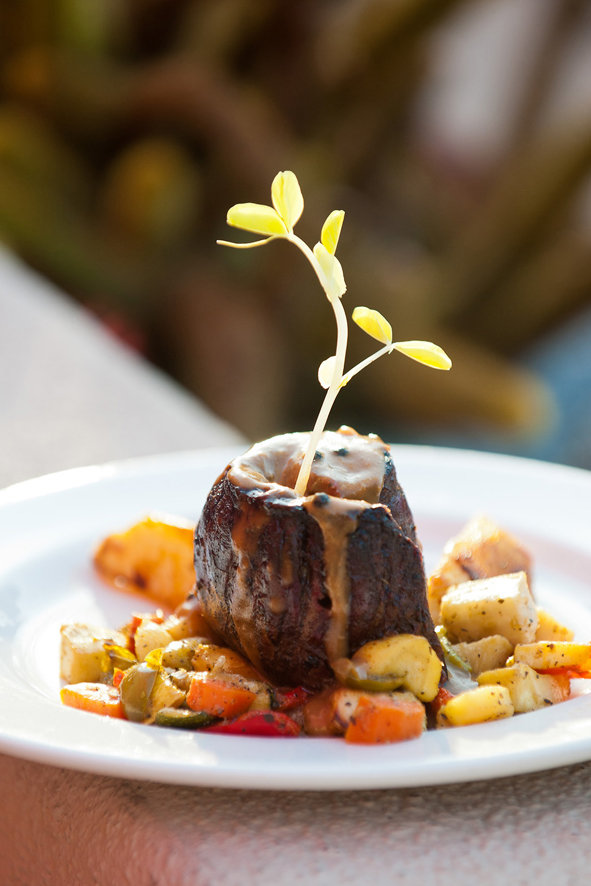 Photo Credit: Embrace Life Photography
60. Add an unexpected accent to dishes with pretty herbs or edible flowers, such as pansies or squash blossoms, says Clare.
61. Have waiters work the room. "Passing specialty drinks can upgrade your look, and most venues will include it in their package," says Price.
62. Classic cocktails — an old-fashioned, anyone? — are making a comeback. Offer one or two kinds of mixed drinks, and you'll imbue your reception with a sophisticated, vintage feel that guests will be sure to remember.
63. The champagne tower is back in style, says Clare. Create one by stacking glasses in a pyramid shape. There may be a small setup cost. Drop single raspberries into glasses for extra effect.
64. Float a slice of lemon, orange, lime or a strawberry or raspberry in each guest's water glass.
65. Instead of a budget-busting full, open bar, offer your guests a signature cocktail, chosen to complement your wedding colors, suggests Griffith.
66. Decorate your wedding cake with fresh flowers to match your décor (less expensive than sugar paste!). "Most florists will provide this for you at a minimal charge if they're already providing other elements of your wedding," says Price.
67. Sweet and simple: Have your caterer decorate dessert plates with a swirl or drizzle of chocolate or fruit-flavored sauce.
68. Make coffee chic by serving each cup of joe with a rock candy swizzle stick, says Price.
69. Display your favorite goodies — cookies, candy, potato chips, whatever you're known for noshing—in containers or even vases of different heights, shapes and sizes.
70. Take your goodie bar up a notch by providing customized "to go" bags or boxes with a stamp or sticker with your names or logo, says Griffith.
71. Choose favors that do double duty as escort card holders. Clare suggests writing each guest's name on a pot with a keepsake plant tucked inside.
72. An elaborate wedding cake can be very pricey. Instead, offer miniature pies, petit fours or individual servings of crème brûlée.
73. A cupcake tower is another fun and budget-friendly change from a traditional cake. A five-tier tower may cost as little as $60.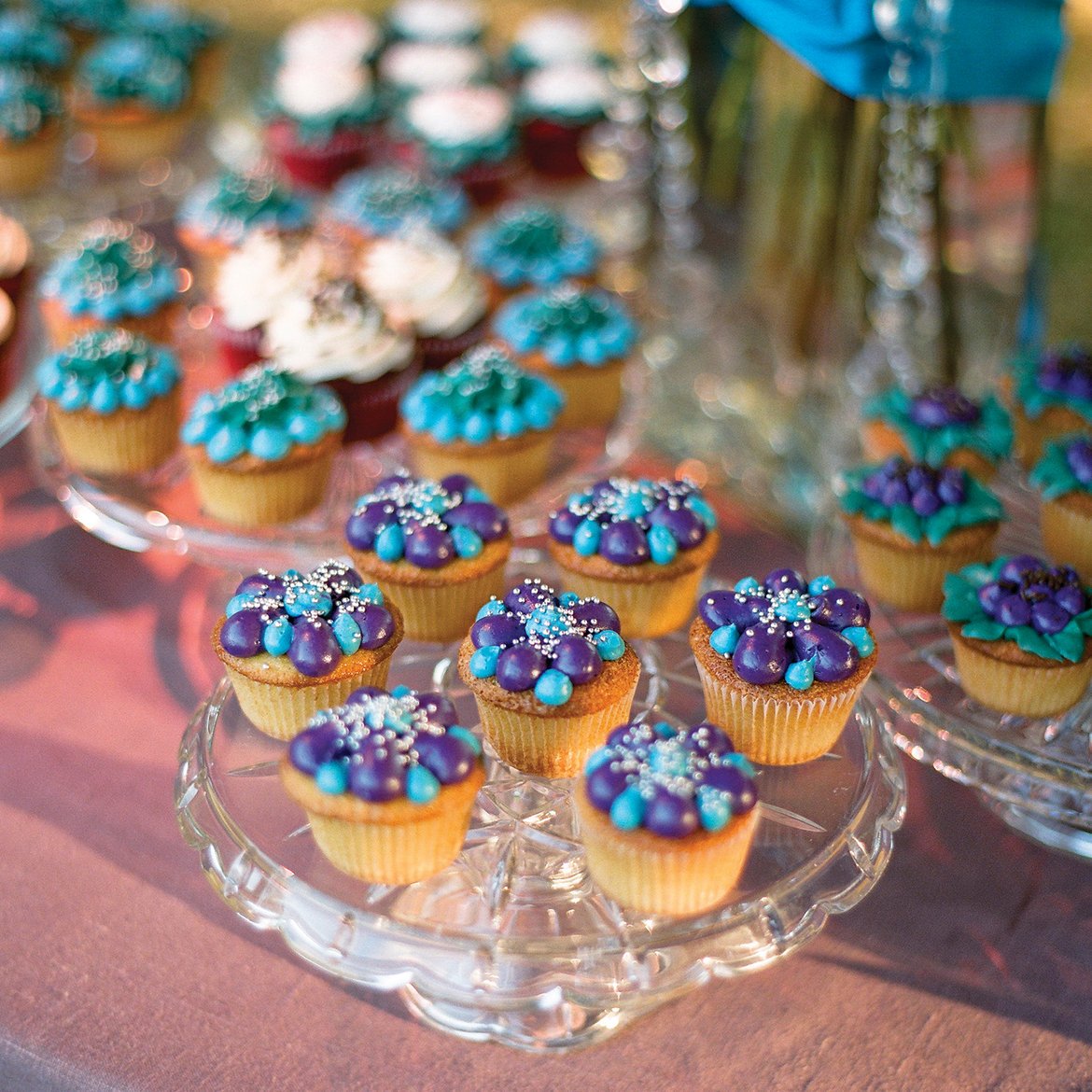 Photo Credit: Tanja Lippert Photography
74. Or steal an idea from one of Zachman's brides and have an outrageously rich brownie tower.
75. Ask your baker to cover your confection in a soft gold or silver fondant rather than white. "Fondant airbrushed in gold looks really rich and extravagant," says Zachman.